Latest Updates
Blog: How to Build Support Quickly for Your Presentation
Viking Age Tar Production and the Decoupling of Ideas
Getting People Used to New Ideas; The Nobel Center Case
Conference Proofing your Presentation
Going Beyond Google; Creating Original Content
The Dog Ate My Speech: Preparing an Important Presentation at the Last Minute
How Organic Networking Helps Introverts Grow Their Network
Three Secrets of Calm Public Speaking
About that Quote: Ask What Needs to be Done.
How To Do Lists Give You Peaceful Nights and Weekends
Find me on: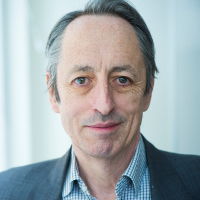 Andrew Hennigan is a Lecturer, Speaker Coach and Writer, delivering lectures, workshops, training and one-to-one coaching about speaking, writing, networking, influencing, reputation, social media, digital marketing, culture & innovation.
A business school lecturer, freelance journalist and ghost writer, he is also author of the book Payforward Networking.
Are you looking for a compelling speaker for your event or want one-to-one coaching to master the art of advanced speaking? Searching for effective and interesting communication training? Do you need an experienced writer for articles, blogs, speeches, your next book? Give me a call or send me an email.
.
.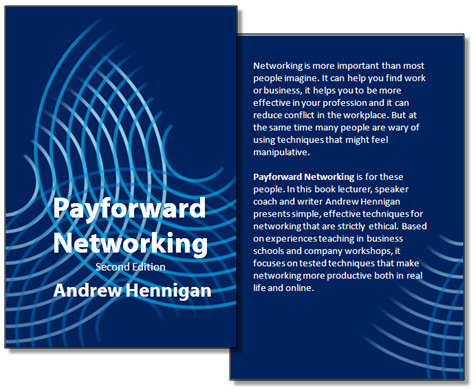 Payforward Networking, 2nd Edition on Amazon
In the first edition of "Payforward Networking" I promised that if it did not answer your networking question I would write you a chapter answering that question and send you an advance copy. Now all these new chapters have been added to this revised and expanded second edition.
Like the first edition, it explains how to apply simple yet effective networking techniques that don't feel manipulative. But in addition to all of the essential core chapters about the basics of networking in real life and online, the new version adds many topics that people have asked me to write about. Some are everyday topics like practical mingling and others are more specialized, like how to design office layout to encourage networking or how to connect with people in high places.
This edition answers many more questions than the first, but there is still the chapter making the original promise. If your networking question isn't answered just let me know and I will answer, either through a message or social media or by writing a personal chapter for you.
Available in both paperback and Kindle editions from Amazon
here
.